PE Games has come a long way since its inception, and we are incredibly proud to have been a part of the physical education journey for thousands of teachers worldwide. As one of our oldest and most beloved apps, PE Games is currently used by over 10,000 PE teachers from around the globe. We are thrilled to announce our latest update, which introduces cutting-edge features to enhance your teaching experience even further.
Over the years, PE Games has established itself as an indispensable resource for physical education professionals, offering an extensive library of over 200 games across eight diverse categories. With this new update, we are taking PE Games to new heights, incorporating advanced AI-driven tools to help you plan lessons more efficiently and effectively.
Here are the exciting new features you can look forward to in the updated PE Games app:
AI-based Lesson Planning:
Our intelligent lesson planning system allows you to create custom units and lessons in just minutes. This powerful tool aligns with your specific settings, curriculum objectives, and student needs, providing personalized and tailored plans for every class.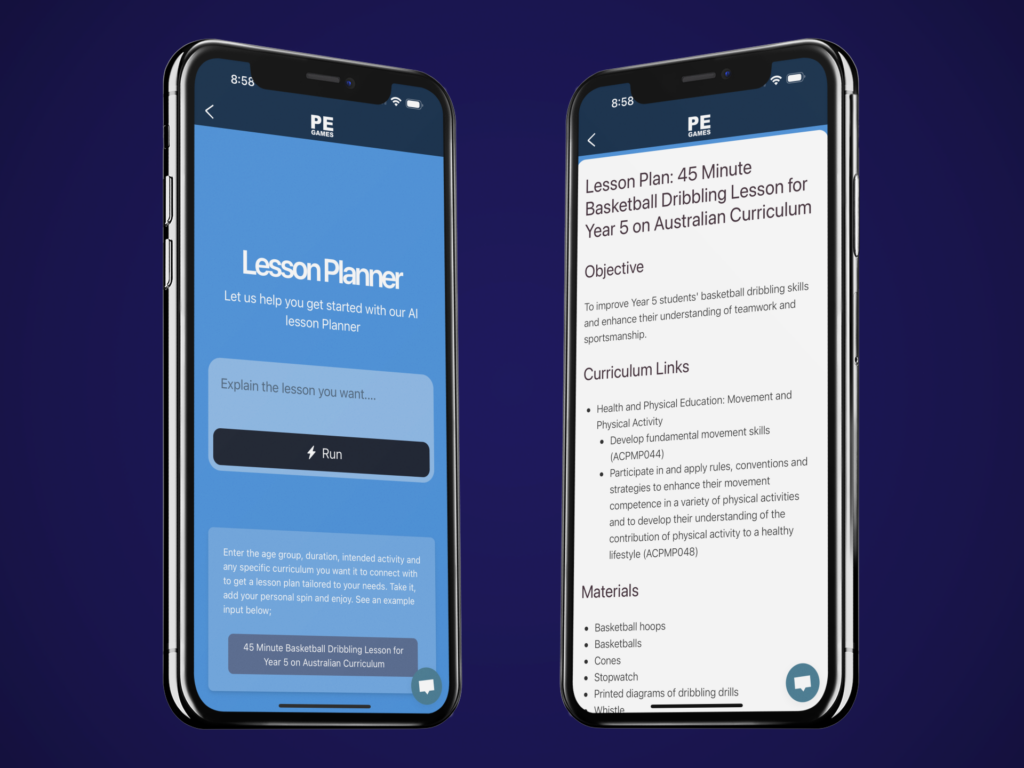 PE Games Generator:
Maximize the use of your available equipment with our innovative game generator feature. Simply input your equipment, and the app will instantly recommend a game designed for your students and resources.
We understand the importance of hands-on experience, which is why the PE Games app is available to download for FREE, with a FREE trial available for the premium AI features. This trial allows you to explore the full potential of our AI-driven tools, ensuring that you make the most of your physical education lesson planning.
As PE Games celebrates its incredible journey, we invite you to join our community of satisfied users and experience the future of physical education lesson planning. Don't miss out on the opportunity to transform your teaching experience with our latest update – download the app and start your FREE trial of the premium AI features today.
You can download the app for iOS & Android devices via the links below