PE teachers and volunteers are often asked to manage extra-curricular activities, but this additional responsibility can be time-consuming. With a full schedule and limited time, many teachers and school volunteers are looking for ways to run their sports clubs more efficiently and more effectively.
Running clubs, in particular, can seem daunting at first. Even experienced runners can feel apprehensive about implementing a structured approach to running in a school setting. Although managing this type of activity can seem overwhelming, there is plenty of support available. 
In fact, there are many benefits associated with starting a running club at your school or higher education institution. Firstly, it provides a great opportunity to enhance the lessons learned via the physical education curriculum and, secondly, it enables students to increase their fitness levels in a fun and safe environment. With the opportunity to act as a role model or mentor to your members, the people who manage run clubs have an unrivalled opportunity to help shape their students' lives. 
In addition to this, run clubs are typically active participants in the school and local communities. As well as taking on athletic challenges, you can also implement fun runs and charity runs to help support local causes. These events provide a great opportunity to recognise the efforts of club members, showcase their talents, fundraise for local causes and involve the wider community in school activities.
With so many benefits associated with running clubs, it's easy to see why they're becoming so popular in schools across the country. Furthermore, the help and support available mean that you can undertake the management of a run club with ease. 
Starting a running club at school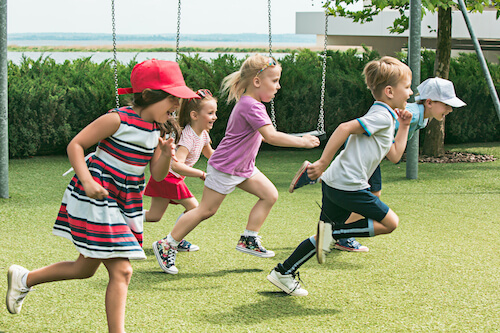 Whether you're a PE teacher, an educational volunteer or part of the school admin team, you can get involved with the launch of your school run club. Indeed, many adults are keen to manage and assist with school run clubs because of the opportunity it gives them to enhance their own fitness!
If you're thinking of launching a run club in an educational institution, such as a school or college, an informal poll or survey is a great way to start. This gives you an idea of how many students would be interested in taking part, which is vital when you launch any sports-based activity. 
If the majority of students are keen to join, for example, you may want to host two run clubs to cater for the demand. In addition to this, knowing how many students are interested in joining a running club will enable you to determine how many volunteers or instructors you may need.
Of course, you'll need to have the backing of your superiors before you can launch any school clubs. However, the benefits of a run club, combined with the minimal cost and equipment requirements, meaning they're a popular option for schools and colleges. 
It's vital you obtain parental agreement before any students can take part in extra-curricular activities, including run club. Although this is often done via permission slips, your school may have an online forum which enables parents to give their consent electronically.
With the formalities done, you can begin plotting your first run club route. If your school has access to sports grounds or fields, this can be a good place to start. By remaining on private property, you can avoid traffic and minimise the risks involved. As participants become fitter and more aware of their surroundings, however, you may choose to include routes which involve going outside of the school premises and into the local community. 
When planning the launch of your run club, remember that participants will have varying levels of base fitness. Using walking intervals can help to cater for everyone, as this helps them to boost their fitness whilst still taking part. By helping students to learn more about how they improve their fitness, you're contributing to their education and helping them to become fitter. Furthermore, setting personalised run club goals helps them to have a fun focus, rather than being too concerned about whether they're the first runner in the pack or the last. 
With your run club ready to go, you'll begin to see the benefits it brings more quickly than you expect. The camaraderie, shared experience and exercise offered by a run club is a great way to enhance school life for all students and it doesn't take long to have an impact. However, once you've launched your new run club, you'll need to find ways to manage it efficiently.
Managing a Run Club
As PE teachers and volunteers already have a lot of demands on their time, being able to run extra-curricular activities in a streamlined and efficient way is vital. By using the right tools, you can minimise the burden of managing a run club and ensure it operates seamlessly.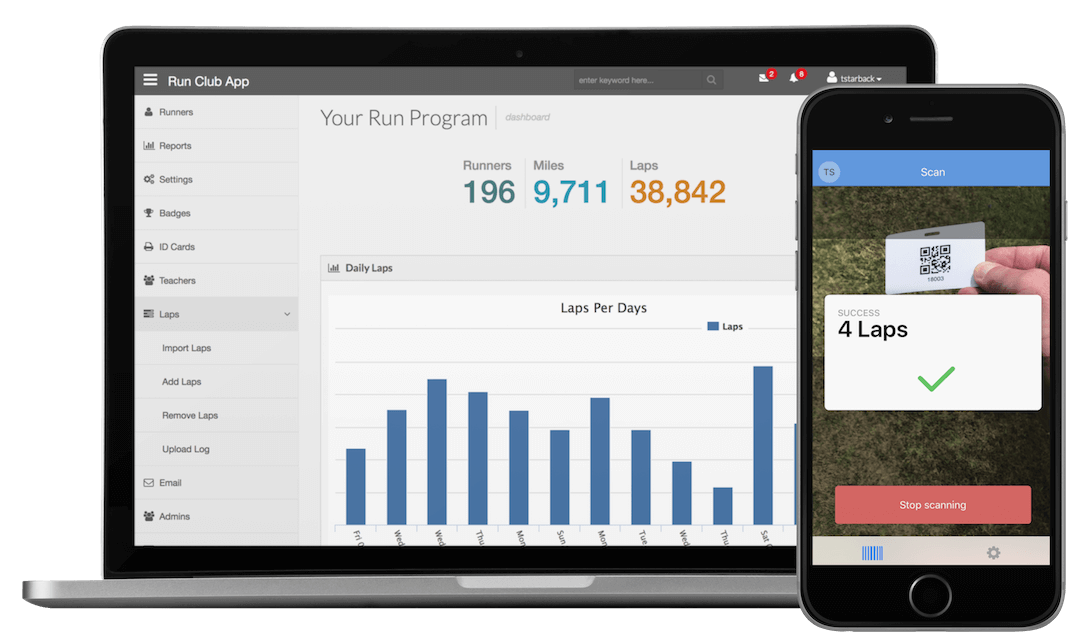 GetRunClub is designed for PE teachers, physical education professionals and volunteers who want to manage the best run clubs. With endless tools at your disposable, you can enhance the activities available to your members and minimise the workload involved.
With a student lap tracker and run club management suite incorporated into one portal, you can manage every aspect of your run club easily. By issuing an ID tag to members, you can monitor their progress and runs, as well as compiling easy-to-access data. 
For run club managers, dealing with the stats and the corresponding data was typically the most onerous part of the process. Having to record times by hand or transfer handwritten notes into a spreadsheet meant that many PE teachers were dealing with unmanageable workloads.
With GetRunClub, however, you can forget time-consuming spreadsheets or manually plotted graphs. Instead, our straightforward lap tracking system automatically logs member activity. With options to view event times, mile times and split times, you can segment your data in seconds and access the information you need. 
What's more – the GetRunClub portal makes data collection easy. With the ability to create your own barcodes and QR codes or use student ID tags, you can simply scan each student and their stats are recorded to the portal. If you plan on plotting routes across rural locations or heading out on cross-country runs, no problem! The GetRunClub will simply scan and store the data on location and begin uploading it to the portal when you have access to your network. 
Secure access to student data
With group and individual member performance recorded, you can access any data you want to at the touch of a button. You'll have the ability to look at a member's overall performance, as well as splitting their activity based on the event, distance, lap. Furthermore, members can be issued with their own secure logins and passwords, which means they can monitor their own progress too.
The GetRunClub portal automatically issues badges and awards, so students will be continually motivated. As all PE teachers and volunteers know, getting a long-term commitment from students requires them to be interested, encouraged and rewarded for their efforts. While the education system doesn't give teachers as much as they'd like to do this, the GetRunPortal makes it easy and effortless. With the option to give awards to the fastest runners, the most improved joggers and the most committed members, you can ensure that every run club participant is recognised and rewarded. 
Creating student progress reports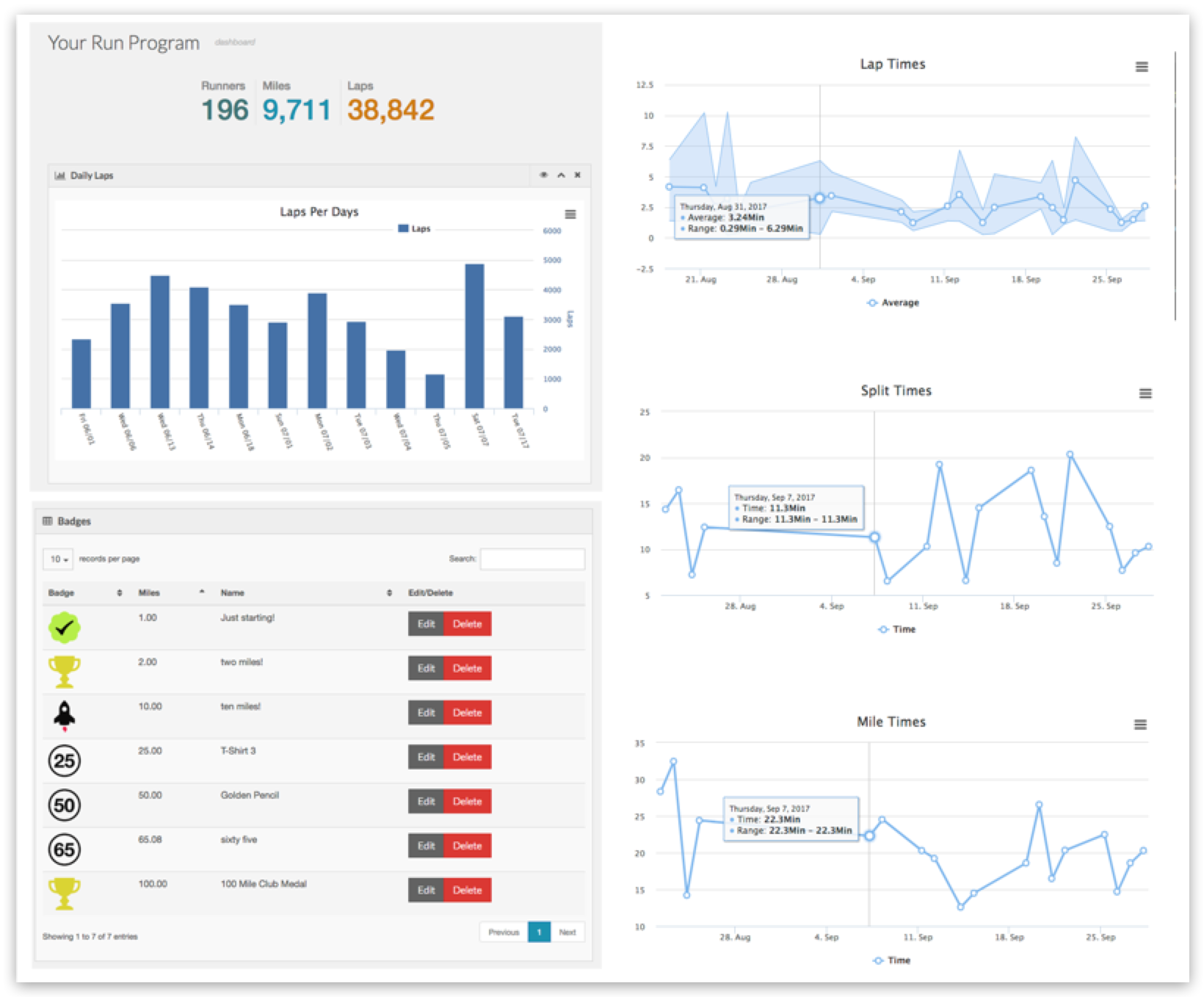 Throughout the course of the academic year, teachers are required to issue student reports. This enables parents to see how their children are performing at school and gives teachers the opportunity to raise any concerns they may have. As well as writing reports for their lessons, teachers are usually required to submit student reports for extra-curricular activities too.
Although report writing is often seen as time-consuming and stressful, the GetRunClub portal makes it possible to issue detailed student reports in seconds. You can choose to include as much data as you like and showcase the student's individual achievements via their run club report. In fact, issuing student progress reports using GetRunClub is so easy that many PE teachers send reports home on a regular basis. 
Creating student progress reports
Today's teachers have a heavy workload and minimal downtime, so it's not surprising that extra-curricular activities can suffer as a result. With GetRunClub, however, you can launch and manage your school's run club easily, without having to spend hours preparing for runs or recording student performances. 
In fact, GetRunClub allows you to manage your run club from any device and location. With a simple scanning process, you can use an iPad, iPhone or iTouch, as well as Motorola scanners, to record student timings and let the app do the rest. 
With unrivalled levels of support, extensive features and a user-friendly interface, GetRunClub makes it easy and fun to manage your school's run club. Whether you're a PE teacher or volunteer, you can ensure your students have a fun, challenging and rewarding environment in which to flourish.
Signup for as FREE Trial at GetRunClub right here