A one-of-a-kind Beep Test (Pacer Test) experience that uses your music to conduct the test, instead of the annoying beep.

Select songs that inspire your students, and have the app change songs as the levels progress. Start with slower songs, working your way up to more uptempo beats. You can also use the inbuilt calculator to determine your aerobic fitness rating and V02 max.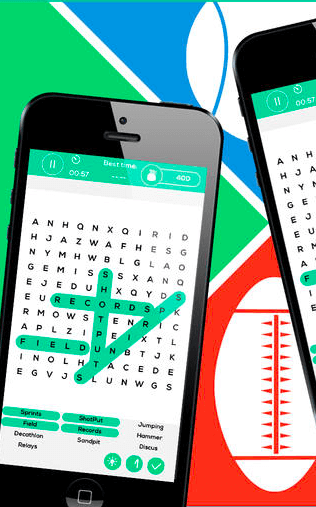 Sport Search – The Ultimate Sports Word Find
A simple FREE app that I developed for PE Teachers to engage those unable to participate in a session, or as a fun way to integrate students to sport specific terminologies. With over 50 sports included and tonnes of time based challenges, you can be confident of hours of fun & entertainment.
You can also download the FREE PDF resource that includes the word finds to printout for student use here
I've used a number of apps throughout the years that make this possible, however none have been as simple or straight forward as this one. Quite simply, this app is a mobile browser, than enables you to open websites like YouTube. The great thing however is when you start video playback at any website, you're asked if you would like to download the video to your device for offline playback.
As many of PE Teachers are still struggling with inadequate WiFi in their practical spaces, this becomes a great way to cache copies so you can watch them in class. It also means that you can download exemplar performance videos for use in apps such as Coach's Eye
Another App by the people behind Virtual Active and Bit Breaker that upgrades your cardio machine with stunning interactive trails from around the world. Each tour can be streamed instantly or downloaded locally for use at the gym. No hardware required – BitGym tracks your exercise speed by using the front-facing camera on your device.Works on any bike, elliptical or treadmill – just place your iPhone or iPad down so you're in view and start exercising. This is simply spectacular. 
Check out the other top app lists here – Part 1 – Part 2 – Part 3 – Part 4– Part 5 – Part 6 – Part 7 – Part 8 – Part 9 – Part 10  – Part 11 – Part 12 – Part 13 – Part 14  – Part 15  –Part 16 – Part 17 – Part 18 – Part 19 – Part 20 – Part 21 – Part 22 – Part 23 – Part 24 –Part 25 – Part 26  – 27 – 28 – 29 – 30 or grab the PE Apps App for a great one stop collection of the best PE apps.