A number of years ago at a conference I spoke about a game concept that utilised QR Codes and Smart Phones to facilitate a fun activity that centred around exercise, teamwork, strategy and technology. The basic idea is simple.
Each user creates a QR Code that prompts a text message to their phone. They wear the QR Code on their back and aim to avoid it being secretly scanned by the enemy. Once the enemy scan the QR Code, they will be prompted to send a text message to your number, ultimately sealing your elimination from the game.
You can follow the steps below to make this game a reality
1) Visit http://qrcode.kaywa.com/ and choose the SMS option. Users then enter their mobile number along with a unique text message. This will ensure that your enemy actually has to scan the QR code on your back to eliminate you.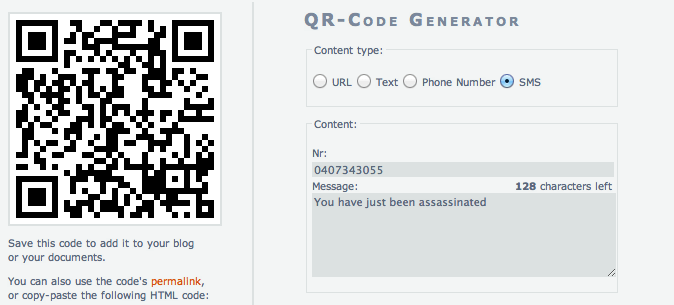 2) Once your QR Code has been generated, you can download it and place it on the back of a t-shirt.
3) Once the QR codes are setup, players can download a free scanner application like RedLaser for iPhone or QR Droid for Android and the game is ready to begin.
Depending on what the intent of the game is, teachers might choose to incorporate different rules to bring about a variety of learning outcomes. These could include;
Increasing the size of the playing area to increase physical activity
Decreasing the size of the playing area to increase tactics
Creating different roles within teams such as medics, who cannot eliminate players but revive them by scanning a designated QR Code within the battlefield
Incorporating base stations or medical stations, each of which contain QR Codes that prompt text messages to the opposition or teachers. This could be used in replace of QR coded t-shirts.
With term 2 fast approaching, I would love to make this game a reality in my classes as a way to measure teamwork and collaboration. Do you think this would work? What else could you add to the game to increase activity and other learning outcomes?